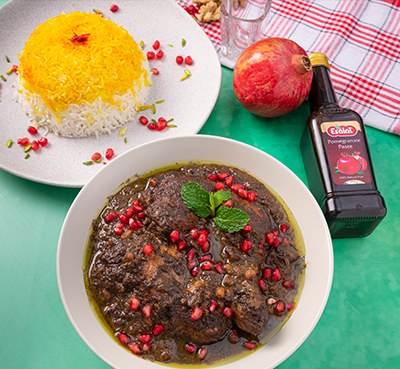 What are the benefits of pomegranate paste?
2021/12/21
Today, traditional Iranian medicine and the Orient in general have found a special place even in the academic spaces of the world, and in parallel with the foods that have been present in the daily table of the Orientals and in the medical books of this part of the world for a long time, like others Discoveries in the medical science of the world have been studied and many tips and treatments have been extracted to date. Curd, which is one of the dairy products and fortunately is widely available and used in our country, is one of our common foods, but its name is clearly seen with the term curd in traditional medicine in the most important medical texts. To discover the properties and application of this dairy product in traditional medicine, we come together.
What is curd and how is it made?
Whey in traditional medicine has the same properties that are normally used. Whey is one of the daily dairy products that is used in Turkey, Mongolia and Central Asia and is used in most traditional foods of these countries and gives a special taste to food. If you are eager to know exactly what curd is made of, the answer should be that this magical substance, full of calcium, is the same as ours, which dries due to sunlight and heating in an open and of course hygienic space, and the product that is obtained Its name is curd. Of course, there is a type of curd that is more sour than ordinary curd, which is made from dried sour milk, and when the water dries and is taken from milk or yogurt, the bag containing milk and yogurt is placed in shaped containers. To be in the desired shape.
What is the story of curd?
Whey, which is made from a combination of sour milk and dried yogurt, is still produced in the world today as milk butter and will have its own fans. Milk yeast, which causes whey to form, is affected by very important factors in milk, and sometimes exceeds what we know; Milk obtained from domestic animals and subjected to direct heat reaches a state from which yeast can then be extracted and the yeast entered into the curd-making stage. If you walk into the old markets of countries like Iran, Pakistan and Turkey, you will see shelves full of dried and ready curds and milk yeast that are drying and preparing.
curd and traditional medicine:
Pay attention to the foods we eat; They are all a kind of medicine. If we catch a cold and get a severe viral infection, a traditional healer will definitely suggest that we eat so-called watery foods. One of these watery foods that we are constantly recommended is ash. What is the inseparable composition of ash? Undoubtedly, curd will come next to it, and that is when we just mix it and say under our lips; Oh! Our soup just tasted! Among the thousands of colorful drugs available in the complex prescriptions of academic physicians, wrapping plain, dried curd yeast may seem a little ridiculous at first, and we may ignore it. But so far, many studies on whey in traditional medicine have shown that it is simple and available and more or less cheap, full of minerals, calcium and protein. Sometimes it is enough to associate with nature and allow it to flow into us its existential originality that is in harmony with our body and soul. That is when the miracle of nature is proven to us.
Curd in traditional medicine and its properties:
We have already mentioned that curd is made from yogurt and sour milk, and we can proudly say that this dairy product has been one of the achievements of Iranians that has spread to other countries. But it's worth noting the place of this product in medicine and rich meals. In addition to calcium, whey is rich in protein and peptides. Peptide is one of the most effective ingredients in improving and strengthening our human immune system and digestion, and whey is one of the few foods that contains this valuable substance. If you look at the perfumeries or pass through the old markets of the city, you will see that this substance is often white, packed in round and oval balls and placed in front of the shop window. One of the pictures you see and hear from Attar in front of a customer is this sentence; The doctor said how much curd should you eat a day? And no doubt you hear an answer from the customer that is similar to the promises of regular medicine; For example, three piece of curds. Traditional medicine medicines follow a similar process and, like the medicines your doctor prescribes, have a specific dose and amount to be taken.
Fill the empty space with curd:
If you do not consume at least some dairy every day in all your meals, sooner or later you will have problems and no industrial medicine will work for you. So in this case, it is better to include dairy products such as curd in your and your family's diet to ensure the health and stability of a very good food system for your family. In this opportunity, we tried to place curd in traditional medicine and reviewed its benefits together. It is good that if we have reached a conclusion in this regard, we should not forget it and always keep the importance of our health in mind and bring it to the implementation stage.
Meta description: curd in traditional medicine has long been in different ethnic groups and due to its numerous therapeutic properties, it has not only been present in the Eastern table but also has found a special place in Western industry.